Right now in my head I'm really thinking and singing the "Wipeout" song, but only my version, replacing it with "White-out"! Yea I'm a strange one...it's been one of those days. One of those days to where Hubs looked at me and said, "In the kindest way I can say it, do you need to get out by yourself for a little bit?"
Did I really have to think about?
Yea buddy, see ya!!!!!!
And that was that, I was gone for 4 hours finding some more treasures. By myself. No kids.
It was heaven.
Days prior to today, I have been working on our room. I'm not letting it out of the bag all I have done just yet, but I have been trying to add more white accessories to brighten it up a bit. I used to want everything so dark, so adding white has really been a change for me for anyone who knows me. So here we go...
*WARNING...PICTURE'S GA-LORE*
My flower arrangement I made-taking out the dark flowers and adding in white ones.
My Good will mirror I bought for $4, anyone need a mattress? Their's a clearance on them, or that's what the paper said as I was covering up the mirror part...
In the corner of my room.
Loving the detail on this baby...
Yep, I heart it...
Hobby Lobby sign I got for $6, I liked it brown, buuttt I'm trying to lighten it up around here...so...
I painted it white, and let a little bit of the brown peek out...
My $1 Goodwill wooden candle holder. I didn't take a before pic, one of those spur of the moments, picking up the spray paint can and gettin after it...
Another Goodwill find, $3, I knew I could do something with it...
Cleaning it up with...a baby wipe. Ya know, their good for other uses besides cleaning up butts...I use them for everything...Really, I do...
See there we go...
Sorry for all the pics, but that's what I have been up to this week. Painting alot of white, I used the same ole Country White because I have a big ole thing of it I'm trying to use up and staining it with Dark Walnut. Now I've got to walk around the house and see what else I can paint white...It's taken me over...
I'm linking this up with
and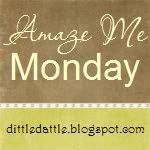 Off to watch the Oscars...Have a fab night!
Kirby