It's about time I posted a recipe on here since I haven't done it in awhile, I've been too busy painting and being buried under the snow that the only thing I've been wanting to make is anything to keep me warm! Like soup. Lots of soup and chili.
I did make these little suckers for an appetizer on Sunday for the Superbowl. When I told hubs what I was making he turned up his nose...
Hubs: "Spinach....umm spinach balls...?"
Me:"Yes, spinach balls, and they will be good!"
Hubs:"Spinach balls with stovetop in it...?"
Me:"Yes, now get out of the kitchen before I roll you up in a ball and bake you!"
And off he went. Butthead. I got this recipe out of "The Blue Willow Inn Cookbook". And I just love this cookbook, its has all southern recipes in it. It's great for someone who has no clue how to cook, because it even teaches you how to boil water! I won this book in a giveaway actually and just love it, did I mention that already?
So here it is, super easy appetizer, that I loved and hubs actually ended up really liking them too! I proved him wrong...once again. There really, really yummy dipped in ranch!
Me + Ranch = BFF's For-Ev-Ever!
Spinach Balls
2 pkgs frozen chopped spinach
1 tbs black pepper
5 eggs, beaten
1/2 c grated Parmesan cheese
1 stick butter, melted
1 medium chopped onion, diced finely
1 box of chicken flavored Stovetop
(I added about 1/2 tsp of seasoned salt to it also)
Cook the spinach and drain.
Combine all ingredients in a mixing bowl and mix well.
Form in walnut size balls.
Bake at 325 for 20 minutes.
And of course, dip 'em in ranch!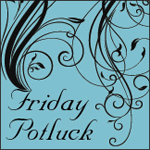 and Potluck Sunday
Hope everyone has a fantastic weekend!
Kirby