When we were prisoners held up in our own house the week we got the
3-5
20 inches of snow, I was browsing around on Craigslist. Not that it would have done me alot of good, considering I couldn't leave to go pick up anything if I did find something. I couldn't even get of my driveway.
Yea I know ridiculous.
I have never found anything off of Craiglist's around here, but of course I did this day. And it was cheap! I noticed the same lady had another table, but this is the one that I wanted really bad! But for the prices she was asking, I went ahead and wrote her about both of them. She had originally asked $10 for each one of them, but I talked her down to $10 for both!
Fab-u-lous!
The other kicker though was to see if she would hold onto them long enough to get me out of this house and go get them. Luckily for me, she did! 4 days later I went and got them!
I brought them in and basically started working on it right then. I sanded him (Yep, this one's a boy) all down and cleaned him up and started painting him Country White. I did 4 coats and let it dry then got to distressing it. Especially on "his" legs! This is my favorite part of the whole table. It's what gives it the "Retro" look! I then brushed on Dark Walnut stain, and rubbed it back off with a baby rag (those work best for me!) and then put a protective little coat on him, and then I was done.
And in love.
Jeff, who?
Oh Hi, Hubs! (as he is standing behind me rolling his eyes..hehe..)
Here he is...My new love...
His dang good lookin' legs...
This was him before, he just needed some T.L.C.
(Aren't ya proud? I remembered to take a "before" pic this time!)
And this one, when I brought him in said, "Ohh..pretty momma!"
Aww. What an Angel.
I take it back.
She's not an Angel
She just peed on my floor.
Potty Training...
Need I say more?
Alright well I got some cleaning up to do.
Oh but real quick..
sorry Hayden, where's Daddy at to clean you up???
I completely forgot about my
Giveaway
!
I'm horrible, I know.
So I'm extending it until this Wednesday, Feb. 23 at Midnight!
I'm linking this up with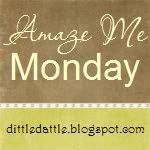 and
-Kirby-