I love beans. I really do. You can add them into so many meats, soups, casseroles and really get away with it. Almost. That is until your 5 year old sighs and says, "Eww beans again, I don't want this anymore!" and shoves her plate off to the side.
That's when mean ole Mom says "I don't care, you will eat it or it goes to the dog and he can chow down on it and be happy and you will go to bed hungry because I refuse to make anything else!"
or this one
really
gets her
"Oh, look at Hayden eating her dinner with the beans in it, she's a big girl and she gets whatever dessert she wants after dinner!" Hayden then precedes to look at her and laugh.
That usually does it!
She'll put on her pouty face and scoot her plate back in front of her and try to argue with, "Well what if I eat 5 more bites, then I get dessert?" I roll my eyes and say fine. I don't have the energy to argue with it anymore. Brat...
So even though I do add beans to alot of my dinners and even through the complaining, this is one recipe right here that she will gladly eat every time. All of them do actually. Even baby Sadie does, or she wears it, I can't exactly tell which one she does. I wanted some baked beans one day but alot of beans always calls for some type of bacon or meat in it and I didn't have any so I started just putting a little bit of this and that into a bowl, baked it and was actually kinda surprised how well it turned out. You still get the smokey flavor in it as if I did add some bacon in with it and that's what I like! Plus its super cheap to make and a perfect side to anything!
I used a 28 oun can of Great Value Pork and Beans and then 1 (15 oun) of the same kind of beans for this. So
43
ounces of Baked Pork and Beans! Ok it's all I had in my pantry, okay?
3/4 cup BBQ sauce
1 small onion, chopped
3 tbs prepared yellow mustard
2 tbs brown sugar
1 tbs liquid smoke (A must, trust me!)
1 tbs garlic powder
1 tsp oregano
1 tsp ground black pepper
Set your oven to 325. In a large bowl combine all of your ingredients (Do not drain the beans) Spray your casserole dish. (I use this medium size oval circle bowl, any medium size dish would work) Pour your beans into it and pop it into the oven. Now this is kinda the pain in the butt part. Your going to cook it for a total of 2 hours but every 20-25 minutes give it a quick stir. Do I always remember to do it every 20 minutes? Nope, then I run into the kitchen and beans have exploded everywhere. I'm kidding. But it just keeps them from sticking to much, I don't even take them out of the oven, just stir and close the door back up! After 2 hours take them out, stir again and let sit for a couple of minutes or you could chance burning your tongue off. Whichever.
I happen to need my tongue to stick out at my children.
I'm such a mature mother that teaches my kids such great things that they will carry with them throughout life.
This has been linked up to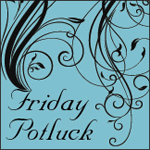 Kirby